Chakra Awakening Series
November 11, 2022 @ 10:00 AM

-

November 25, 2022 @ 12:30 PM

MST

$149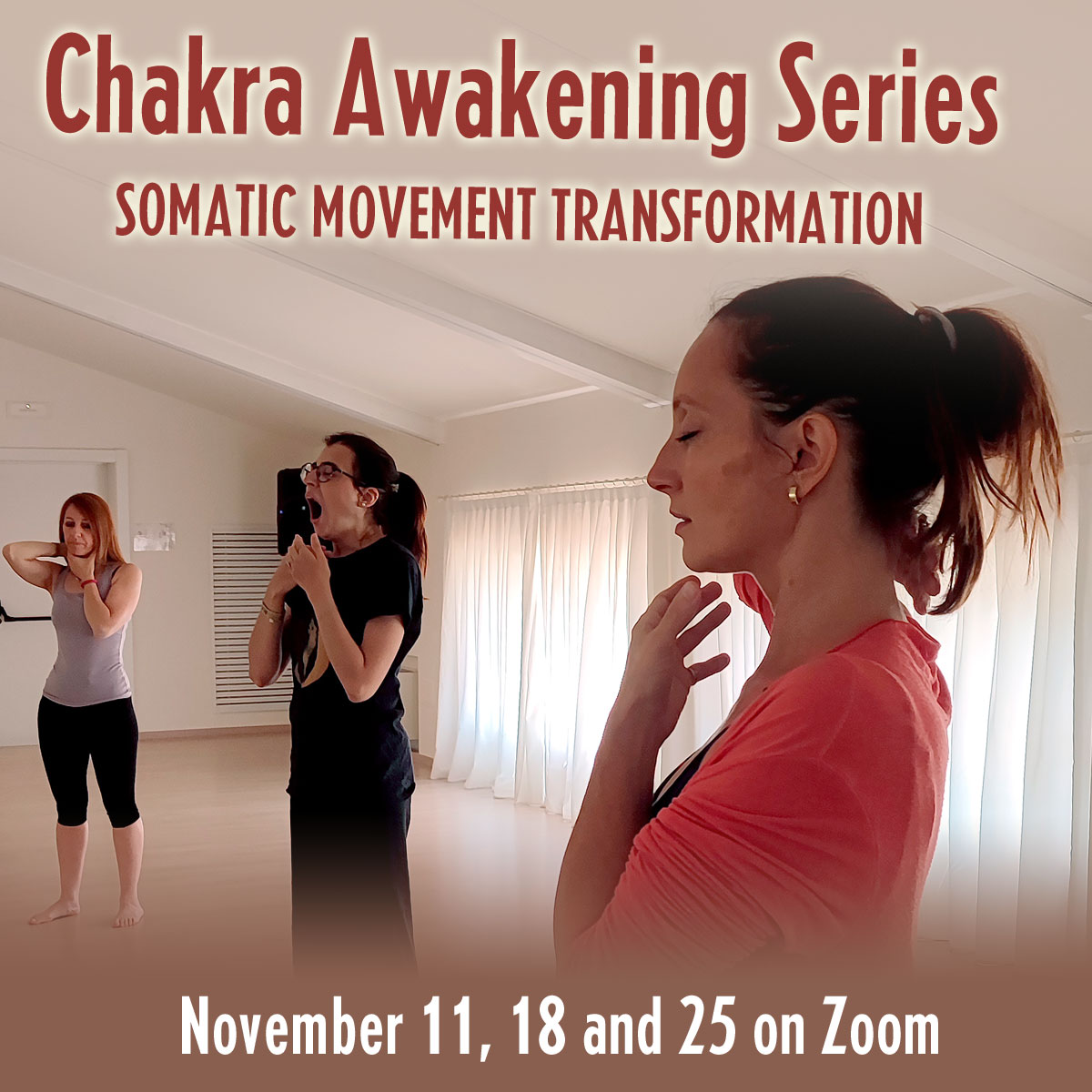 Chakra Awakening Series
somatic movement transformation
November 11th,18th, and 25th
Tools for Life
Chakra Awakening Series –
3 classes to understand, heal and transform traumatic life issues that we carry in our bodies
through the alchemy of somatic experiencing, dance and meditation.
Our energy centers, or chakras, are related to different areas of life, so the fears and difficulties we have in life as well as our gifts and strengths can be contacted, healed and expanded when we explore the chakras.
To awaken them, and through inner alchemy, somatic work and dance, allow our life energies to be danced back to wholeness.
Class 1 – 4th and 1st chakra
Bringing Love to 1st chakra issues:
Survival, Health, Money
Vitality, Fear, Sex
Class 2 – 2nd chakra
Intimacy, sensitivity, capacity to feel
Emotional Intelligence
Joy of Feeling
Class 3 – 3rd chakra
Power, Strength, Boundaries
Action, Dignity, Joy
In today's world we can choose to go down with the suffering of centuries of destruction and repression, or to use this chance to transform and go beyond, before it is too late.
*If you are unable to make these times, there is an option to participate through recordings and join online for a last meeting.
🔆
Comment from a participant:
"It was amazing to dance, to feel the chakras, to express these feelings in dance, to accept myself AS I AM, to give my acceptance to other people! You helped me to bring AWARENESS & INTENSITY in my life!￰ I feel real joy and so much happiness inside?
D. Shriya, St. Petersburg, Russia
"In the moment I learned how to come in touch with the heart space, my meditation went deeper. It was like the missing piece. After so many years of meditation, the heart is the part that was kind of missing."
D. Vargas, Berlin, Germany
🔆